Invisalign– Milton, MA
Straighten Your Smile Seamlessly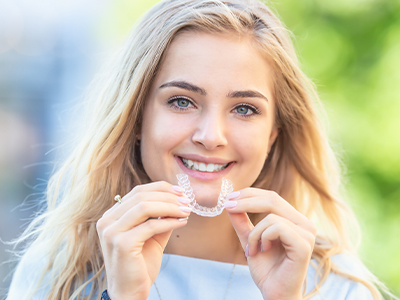 Crooked teeth are a prominent cosmetic concern for many adults. Sadly, many of them assume it's too late to make the improvements they want because they don't want to deal with an embarrassing mouthful of metal brackets and wires for months or years. Luckily, Invisalign is an amazing alternative! These subtle plastic aligners can gently guide the teeth with no one around you being the wiser. They're also 100% removable, which means you can still enjoy a full diet and practice oral healthcare like normal. If you're interested in a consultation, don't hesitate to call Thomas Family Dental Associates to discuss cosmetic orthodontic treatment, using Invisalign in Milton, MA.
Why Choose Thomas Family Dental Associates
for Invisalign?
Early Morning & Evening Hours For Added Flexibility
Comprehensive Dentistry in One Convenient Location
Cosmetic, Adult-Friendly Orthodontics
Benefits of Invisalign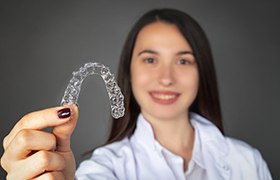 Invisalign aligners are fashioned from a clear, high-quality plastic that slides into place comfortably over your rows of teeth. Not only do patients not have to worry about uncomfortable rubbing or pointy wires, but they can also smile with confidence! It's very likely that no one around you will even notice your orthodontic treatment. They'll just see the beautiful improvements that follow. Better yet, the average treatment time is around one year, while traditional braces can often require upwards of two years.