Tooth-Colored Fillings – Milton, MA
Restore Your Teeth Without the Metal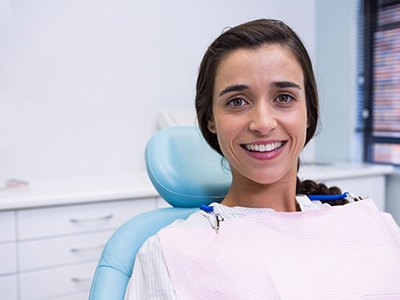 Traditional dental fillings use metal amalgam materials to restore teeth, but they aren't without their setbacks. Not only are they quite visible inside teeth, but they can cause damage to tooth structure in the long-term when exposed to very hot and cold temperatures. That's where tooth-colored fillings offer a fantastic alternative without compromising quality. Whether you have cavities that require restoration or very old fillings in need of replacement, call Milton Hill Dental today to schedule an appointment!
What Are Tooth-Colored Fillings?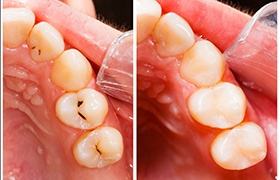 Tooth-colored fillings are designed to restore teeth damaged by decay, ensuring the tooth does not break down further and stays healthy in the long run. Unlike metal amalgam fillings, tooth-colored fillings are made of composite resin material which is a combination of dental-grade glass particles and ultra-fine plastic. This means they are completely metal-free and can be color-matched to blend in with your existing teeth exactly.
The Process of Getting a Tooth-Colored Filling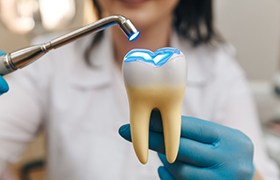 In most cases, the process of placing a dental filling can be placed in a single appointment (or about one hour). This is also the case if an older filling (such as a silver amalgam filling) needs to be replaced. If you have several fillings that need to be placed, we may schedule you for a follow-up appointment to completely restore your smile.
The process of placing a filling is relatively straightforward. We start by removing any decay that's present (or your previous filling), then create the composite resin material. We'll color-match the material ahead of time to ensure it is not noticeable after placement.
Before applying the restoration, we'll place a small amount of etchant material onto the tooth so the filling can bond more easily. After carefully applying and sculpting the resin onto your tooth, we'll use a curing light to harden the filling instantly. From there, we'll polish the tooth to ensure it maintains a natural luster and blends in with your existing teeth.
The Benefits of Tooth-Colored Fillings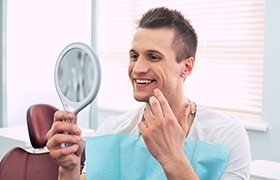 Tooth-colored fillings have many benefits compared to traditional silver amalgam fillings. Because they are custom-shaded to your enamel, you can expect your fillings to maintain a natural appearance that won't be noticeable in your smile. Additionally, tooth-colored fillings:
Directly bond to teeth, ensuring a more stable attachment
Require far less enamel to be removed (if any), preserving more of your natural tooth structure
Are an ideal alternative for those with allergies to metal
Cause significantly less dental sensitivity compared to metal fillings
Healthier in the long-term since they won't expand and contract when exposed to extreme temperatures (which can cause the natural enamel to separate and crack)
Can last just as long as amalgam fillings (approximately 10 years when practicing consistent at-home care)
Do not require any special maintenance to keep healthy