Replace Missing Teeth – Milton, MA
How to Rebuild a Bright Smile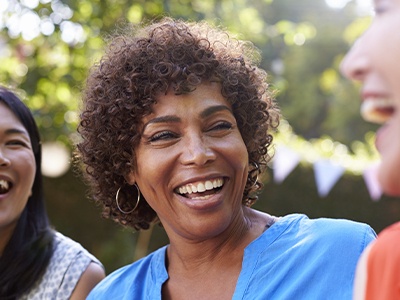 Even one missing tooth can severely hamper your ability to eat your favorite foods, speak clearly in front of others, and smile without reservation. Plenty of people across the country suffer from missing teeth, and our doctors are more than prepared to help you fill in these gaps so that you can keep enjoying your best life possible. All of our tooth replacement options are fully custom-made and can be used to completely restore both your appearance and your mouth's ability to function properly. If you've lived with an incomplete grin for far too long, give us a call today to learn your options to replace missing teeth in Milton, MA.
Why Choose Milton Hill Dental
for Replacing Missing Teeth?
Advanced Training
in Dental Implants
Entire Implant Procedure
Done In-Office
Highly Reputable
Dentists and Team
Dental Bridges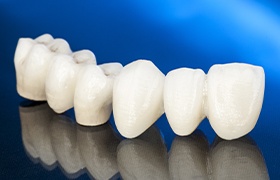 You can get a dental bridge if you've lost either a single tooth or multiple teeth in a row (usually up to 3). In addition to the false teeth used to fill the gap, each bridge also has a pair of crowns that rest on your natural teeth. Filling in the gap this way obviously improves your smile's appearance. It also offers numerous health benefits, such as preventing dental drift and improving chewing ability by properly balancing your bite.
Dentures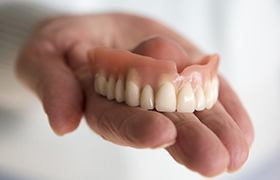 Full dentures are made to replace an entire arch of missing teeth while partial dentures are used to fill in multiple gaps in different locations. Both types are made of an acrylic base that supports a number of ceramic teeth, but full dentures are held in place with natural suction (and adhesive in some cases) while partial dentures are attached to the natural teeth via metal clasps. In both cases, your new teeth will be personalized to provide the best comfort possible as well as a natural appearance.
Dental Implants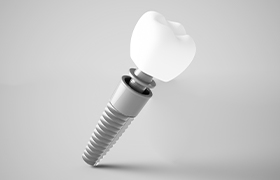 Dental implants have offered a whole new approach to replacing teeth. Before, dentists were limited to only restoring the parts of the teeth that are normally visible. But with implants, we can address the absence of tooth roots as well. This allows your new teeth to fulfill all of the same functions as your natural teeth, including the stimulation of the jaw to prevent bone loss. Implants can be used to replace any number of teeth, and they will last for decades with minimal maintenance. If you are looking for the very best solution for missing teeth, you need look no further than dental implants.