Dentist—Milton, MA
Get to Know Dr. Rania Arif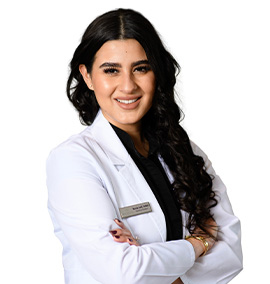 Dr. Arif says that she loves her job because it is the perfect combination of art and science. Plus, it gives her the opportunity to get people out of pain and also provide them with confident, beautiful smiles. She has dedicated herself to fully customizing her approach to each patient in order to achieve the best results while delivering the most comfortable experience possible. Below, you can learn a little more about Dr. Arif before you have a chance to meet her!
Why Did You Decide to Become a Dentist?
Dr. Arif grew up knowing that she loved interacting with people and making new connections on a daily basis. While she was considering a career in healthcare, she knew it needed to be very hands-on and involve a lot of one-on-one interaction. When she was initially introduced to dentistry, she instantly felt a connection with the field. She says that her passion has only grown since she first decided to become a dentist!
Where Did You Study Dentistry?
Dr. Arif graduated from the University of California, Davis before ultimately earning her dental degree from Western University of Health Sciences.
Even though she is out of school, her education has never truly stopped. Every year, she takes several advanced courses and completes trainings through organizations like Spear Education, RipeGlobal, Phelan Dental Seminars, Stribe, and Boston University.
Dr. Arif is also an active member of the American Dental Association, Massachusetts Dental Society, and the American Academy of Cosmetic Dentistry,










Outside of the Dental Office, What Do You Like to Do?
Dr. Arif has an amazing, supportive husband, and they are the proud parents of a young daughter. She is originally from California, so she loves everything that has to do with the beach! When she's not at the office or home relaxing with family, she likes to travel and try new restaurants and cuisines. She also tries hard to stay active, so you'll frequently find her on her Peloton.