Restorative Dentistry – Milton, MA
Claim a Healthy, Confident Smile Again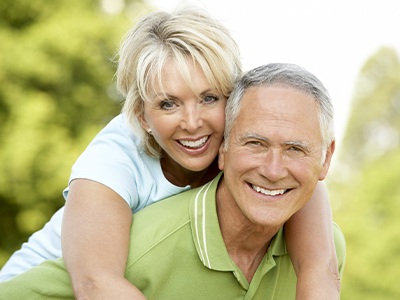 Even if you take good care of your teeth, you might eventually find yourself with dental decay and damage to deal with. This is perfectly normal, and our doctors have plenty of customizable restorative options that will leave your smile looking and feeling refreshed. Not only will you be able to show your teeth off without worrying about your appearance, but you can also rest assured that your smile is protected from further damage whenever you bite and chew your food. Contact us today to learn more about your options for restorative dentistry in Milton, MA.
Why Choose Milton Hill Dental
for Restorative Dentistry?
State-of-the-Art
Crown Design
Beautiful, Long-Lasting
Materials
Convenient
Operating Hours
Dental Crowns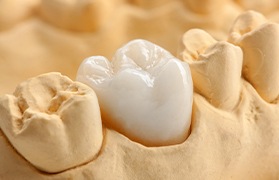 A dental crown is shaped like your natural tooth and can be placed on top of teeth that have been compromised for any reason. This means you can continue chewing and biting normally even after a tooth has been compromised. Our crowns are made out of tooth-colored materials so that they can fully restore the original tooth's shape, size and appearance. These restorations can be customized so well that it's almost like the damage never happened at all! Some patients have actually found it easy to forget that they have a dental crown at all because the existing restoration not only looks gorgeous but feels natural as well.
It typically takes at least two appointments to design, create, and place a crown. Your tooth will be prepared during the first visit, and you'll have to wear a temporary crown over it until the permanent one is ready. It typically takes about a week or so for the new crown to arrive. Once it's here, we'll get in touch with you to schedule an appointment so that it can be placed properly.
Tooth-Colored Fillings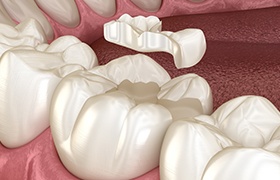 If a cavity isn't large enough to warrant a crown, a filling is usually the preferred form of treatment. Like the name suggests, we quite literally fill in the empty space where enamel was lost. This has traditionally been done with metal amalgam, which has a very dark color that immediately catches the eye. In addition to the obvious aesthetic downsides, metal fillings also leave the tooth more sensitive to heat and cold. Tooth-colored fillings, in contrast, are made out of composite resin and come in various shades so that they can blend in perfectly with your smile. They also don't contribute to tooth sensitivity at all since there are no metal parts that could expand in heat or contract in cold. As an added bonus, they bond directly with the enamel itself, which means no natural tooth structure has to be removed to make room for them. A tooth can often be strengthened by having a composite resin filling placed.