Dental Financing with Wisetack – Milton, MA
Simplified Solution for Affordable Dental Care
If you're searching for a more affordable way to get dental care, then Wisetack might be the solution for you. With this financing option, you'll be able to easily undergo the dental treatment(s) you need right away while paying for your procedures over time instead of with one lump sum. Not only does Wisetack come with little-to-zero interest, but it can also allow patients to get certain services that normally won't be covered by dental insurance, such as cosmetic dentistry! Read on to learn more about this simplified way of affording dental care or give us a call to schedule an appointment.
How Does Wisetack Work?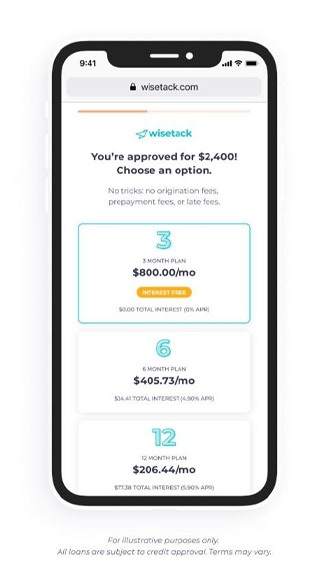 Wisetack is an incredibly straightforward and user-friendly application for dental care financing. Simply enter your basic information, such as your full name and address, and the app will provide you with an almost immediate list of offers for payment plans that can range between 3 to 24 months*. Afterward, you'll just want to select the option that works for your budget, and you'll use Wisetack to pay for 100% of any of our dental services! This app can be conveniently downloaded right on your phone and the steps are easy to follow.
If you're interested, try prequalifying right now by clicking here .
*All financing is subject to credit approval. Your terms may vary. Payment options through Wisetack are provided by our lending partners . For example, a $1,000 purchase could cost $45.18 a month for 24 months, based on a 7.9% APR, or $333.33 a month for 3 months, based on a 0% APR. Offers range from 0-35.9% APR based on creditworthiness. No other financing charges or participation fees. See additional terms at http://wisetack.com/faqs .
The Benefits of Wisetack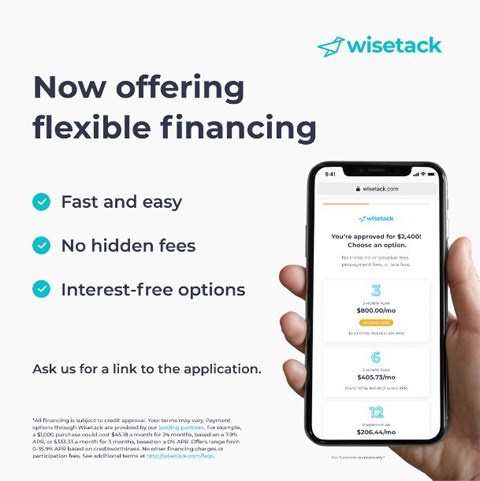 Here are some of the advantages of financing through Wisetack:
Choose from several payment options
No dental insurance forms or paperwork
No hidden or surprise fees
No late fees
No impact on your credit score
Quick & easy sign-up and approval
Finance procedures up to $15,000*
Interest rates can be as low as 0% APR*
Can be used to pay for cosmetic services, dental implants, & more