Dental Implants – Milton, MA
Building Stronger, Long-Lasting Smiles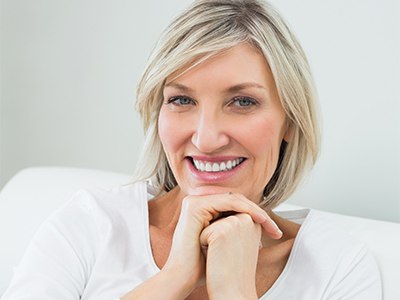 Thanks to our team's advanced training, when you have a missing tooth to replace, we can take advantage of modern dental technology and techniques to permanently fill the gap with a highly durable dental implant that looks and feels like the real thing. Implants have been used to repair smiles for decades now, and they are more reliable than ever before; they are highly recommended for anyone who can receive them. If you would like to learn more about implants and think they might be the right treatment for you, call us today to schedule an in-depth consultation to discuss tooth replacement with dental implants in Milton, MA.
Why Choose Milton Hill Dental
for Dental Implants?
Highly Skilled
Periodontist In-House
Dentist with Advanced
Implant Training
Convenient Morning
and Evening Times
The 4-Step Dental Implant Process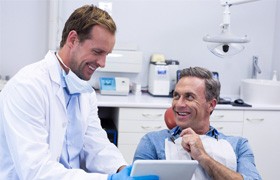 Unlike dentures and dental bridges, dental implants require a longer, multi-step process that can take many months. This may seem like a while, but it is worth it for the incredible benefits you can expect. We want to ensure that you get the best possible results, so we work with a local specialist to complete the dental implant process. Every patient's treatment will look a little bit different, but you can expect these four main steps.
Initial Dental Implant Consultation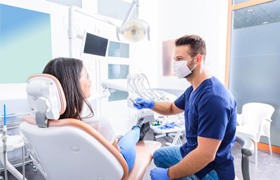 The first step is your dental implant consultation. During this time, we will examine your smile and surrounding facial structures. This will help us to determine whether or not you make a good candidate for implants and where they should be placed in your mouth. During this visit, we are also happy to discuss any parts of the dental implant process, including the cost.
Dental Implant Surgery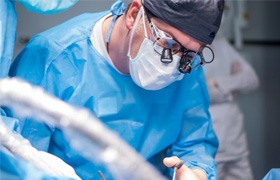 We work with a local specialist for your dental implant procedure to ensure that your dental implant placement goes as smoothly as possible. First, you will receive a local anesthetic to numb the area. Next, an incision is made in the gums so the implants can be placed in the jawbone. Your gums are then closed and protective caps will be placed over the posts to keep them safe during the healing process.
Dental Implant Osseointegration & Abutment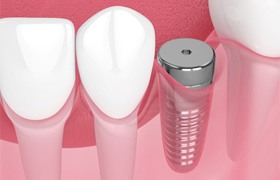 For the next few months, the fusion process will take place between your dental implant and your jawbone, this process is called "osseointegration." This is what allows for your implants to maintain a sturdy foundation so your replacement teeth can stay in place when you speak and chew. When osseointegration is complete, the metal abutments will be placed on the ends of your implants.
Delivery of Dental Implant Restoration(s)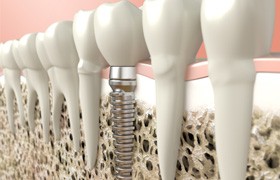 Once your abutment is placed, your replacement tooth should be ready to go. You may return to the practice where you will receive your new crown, bridge, or denture! During this visit, we will check to ensure that your bite is comfortable so you can enjoy all of the benefits of your restored smile!
Benefits of Dental Implants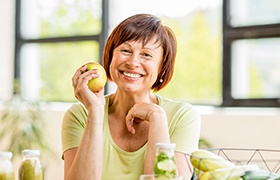 Superior Stability: A dental implant actually consists of both an implant post and a restoration such as a crown, a bridge, or dentures. The post is placed directly into the jaw so that it can fuse with the bone, which effectively means it becomes a part of your body. This keeps your dental restoration firmly in place so that you can eat all of your favorite foods again. You also do not have to remove your teeth in order to clean them.
Dazzling Appearance: The dental implant itself will be completely hidden under the gums, and the restorations they support will be made out of a ceramic that has been color-matched to the rest of your natural smile. The result is new teeth that look and feel natural.
No Bone Loss: Once your teeth are gone, your body decides that the section of jawbone that supported them is no longer needed. As such, the tissue in that area will start to break down. Once dental implants have been placed, they'll provide the stimulation that encourages blood to continue flowing to the area, allowing the bone to maintain itself. A healthy jawbone will retain its strength and appearance as time passes.
Long Lifespan: Dental implants can last an extremely long time compared to traditional restorations and can even stay in your mouth for an entire lifetime without being replaced.
Indications for Dental Implants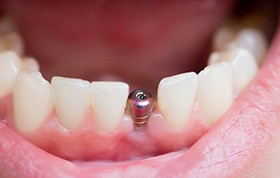 No matter how severe your tooth loss is, dental implants can be considered as long as your jaw and your gums are still healthy.
Missing One Tooth
We don't have to remove enamel from surrounding teeth to replace a single tooth with a bridge. We can simply place an implant post in the empty space and attach a crown to it to recomplete your smile.
Missing Multiple Teeth
Whether you simply want to preserve your natural teeth, or if they're already too weak to support a regular bridge, you can consider implants as an alternative for replacing multiple teeth in a row. A pair of implants can support a single bridge, granting it extra stability as well as longevity.
Missing All Teeth
It only takes about four to six implants to support full dentures. Once the surgery is done and your implants are ready to bear the load of your new teeth, you won't have to worry about dentures that slip while speaking or chewing. You'll also have a much stronger bite and will be able to eat tougher foods such as steak that tend to give traditional denture-wearers trouble.
Understanding the Cost of Dental Implants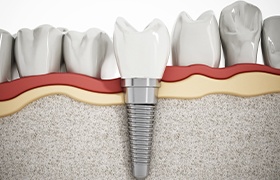 The dental implant treatment process is different for everyone based on their needs. An estimated cost can only be formed after we've examined your mouth and determined the number of implants needed, where they'll need to be placed, and the kind of restoration that will be anchored to them. The initial cost of dental implants is normally higher than that of other tooth replacement options, but over time you'll find that they can actually save you money. That is because they can last for decades at a time, meaning you'll be paying for replacements much less often, if at all. In comparison, bridges and dentures often have to be replaced every 5 to 7 years depending on the care they received in that time.
Preliminary Treatments & Dental Implant Surgery
If you have gum disease or need to have a tooth extracted prior to implant placement, these treatments can also add to your overall cost. However, taking care of these procedures beforehand can better prepare your mouth to receive implants. After the implant post placement, your mouth will need about three to six months to fully heal and accept the implant.
The Parts of Your Dental Implant
Once the jawbone has surrounded the post, we can then place the abutment or connection piece. At that point, we'll wait for the gum tissue to heal around it, which usually takes a couple of weeks. Then, we can focus on creating your new crown, bridge, or denture to be attached on top.
Final Dental Implant Restoration
Whether you're missing just one tooth or an entire arch, we'll design your prosthetic teeth to look and feel as natural as possible. With implant dentures, you can choose to have them permanently affixed or have them be removeable, but either way, they won't slip out of position when you eat, smile, or laugh. Your implant-retained restorations will be strong and give you a much more powerful bite than traditional dentures or bridges all while looking like you never lost any teeth in the first place.
Does My Dental Insurance Cover Dental Implants?
It depends on your insurance plan; most do not cover the implant placement and abutment parts of this treatment. Keep in mind, however, that your restoration will most likely be covered in part by your insurance. Also, the cost of some preliminary work, such as gum disease therapy, may also be reduced with insurance. Before we begin, we'll closely look at your unique plan and let you know what you'll be responsible for paying out-of-pocket, so you'll have fewer surprises.
Making Dental Implants Affordable
Paying for dental implants entirely upfront may not be possible. The good news is that we accept payment through CareCredit or LendingClub, which are trusted third-party financiers. They can divide the overall cost into an easier monthly bill at a low or even zero interest rate. As a result, your dental implants and your more confident smile may comfortably fit within your budget.
Dental Implant FAQs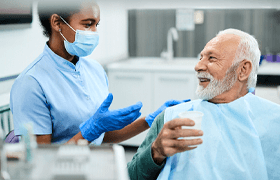 If you're missing one or more teeth, you know from experience how much it can negatively affect your quality of life. Therefore, you're probably interested in replacing the gaps in your smile with dental implants. Of course, since that process involves oral surgery, you may have several questions in mind before moving forward with treatment. At Milton Hill Dental, we want you to be as well-informed as possible, which is why we've decided to answer some frequently asked questions below. Should you not find what you're looking for, don't hesitate to reach out for personal assistance!
Does Getting Dental Implants Hurt?
It shouldn't! Before the procedure begins, we'll numb your mouth thoroughly with a local anesthetic to ensure you don't feel any pain. You'll also likely be sedated, which will lower your body's ability to register pain. While the surgery itself shouldn't hurt, your mouth may feel sore for a few days following the procedure. The good news is that you can easily manage your discomfort by taking over-the-counter pain medication and using cold compresses. If your pain worsens after two to three days, don't hesitate to contact our team.
How Long Does It Take to Recover from Dental Implant Surgery?
Since every case is unique, the recovery time can vary significantly from patient to patient. Although you can return to your normal activities the day after surgery, you should avoid strenuous exercise for the first week or so as it can delay healing. Make sure you diligently follow aftercare instructions and take your pain relievers as directed for a speedy recovery. Keep in mind that it can take up to six months for your implants to fuse with the jawbone.
Can I Get Dental Implants If I Smoke?
Smokers are still able to get dental implants, but it's important to note that they have a higher rate of dental implant failure. Chewing and smoking tobacco can cause dry mouth, slow down healing, and interfere with the implant's ability to fuse with the jawbone. If you're planning on getting dental implants, you should quit smoking at least two weeks before the procedure and wait to resume the habit for at least two or three months afterward. However, this is a great opportunity to kick the habit for good.
Do I Need a Bone Graft Before Getting Dental Implants?
A bone graft involves transplanting a piece of bone tissue to the jawbone to strengthen it, allowing it to accommodate dental implants. The bone tissue can be synthetic or come from an animal, human donor, or elsewhere on your body. It's common for the jawbone to atrophy after tooth loss because the roots are no longer being stimulated through biting and chewing. To determine whether or not you need a bone graft, your dentist will take a detailed scan of your jaw area.