Cosmetic Dentistry – Milton, MA
Dreaming of a Better Smile? Call Us Today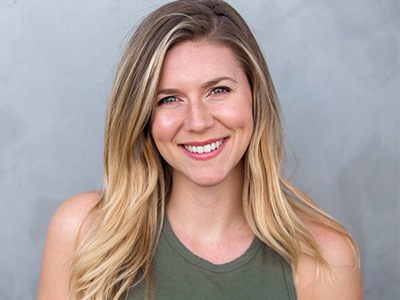 A bold, beautiful grin can make all the difference in the world, but very few people are born with the flawless smile of their dreams. That's not even taking into account all the stains, chips, cracks, and gaps that might appear as time goes on. Dr. Kevin Thomas and Dr. Richard Thomas can both go over your cosmetic concerns with you in order to form a plan for getting rid of the flaws on your teeth. Between their expertise and the vast array of dental treatments offered at our Milton dental office, they'll soon have you beaming from ear to ear! Schedule your consultation to discuss cosmetic dentistry in Milton, MA by calling our dental office today.
Why Choose Thomas Family Dental Associates
for Cosmetic Dentistry?
Advanced Training in
Cosmetic Dentistry
Long-Lasting, Highly
Reliable Materials
Gum Recontouring and
Invisalign Available
Porcelain Veneers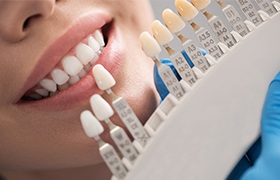 Porcelain veneers are one of the most versatile cosmetic solutions available for people who are concerned about their smiles. Each veneer is carefully designed to have the perfect shape, size, and color. They are then attached to the front of the teeth, completely covering the enamel and hiding the various flaws that have appeared over the years. You can either get a single veneer or a full set to improve all of your visible teeth at once. They can be placed in only two appointments.
Metal-Free Dental Restorations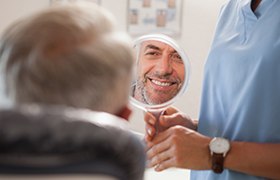 When your tooth is damaged, your first priority should be protecting it and making sure that it can still function properly and safely in your mouth. However, that doesn't mean that the question of beauty should simply go ignored! When restoring teeth, we offer crowns, inlays, and onlays made entirely out of dental ceramic that has been made to mimic the appearance of natural enamel while also strengthening and protecting your tooth. The crown will be virtually indistinguishable from a real tooth, so you won't have to be bashful about showing it off.
Cosmetic Dental Bonding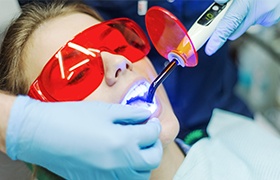 Some flaws are comparatively minor and can be fixed rather easily with a cosmetic bonding procedure. We might suggest it as a solution for small stains that don't respond to whitening, tiny chips that don't threaten the health of your tooth, and thin yet noticeable gaps. Composite resin is applied directly to the teeth and is sculpted so that it covers the target area and blends right in with the rest of the enamel. This can be done in an hour or less, and the entire process is completely painless.
Teeth Whitening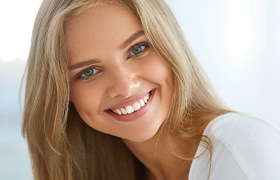 Your teeth may not look as white as they did when you were younger. Years of natural wear and tear as well as drinking dark-colored beverages like coffee can leave your teeth looking very discolored. You likely won't be able to do anything about it on your own, but in just one hour-long appointment, we can restore the brightness of your smile with a simple in-office procedure. Alternatively, we can offer a take-home whitening kit with customized whitening trays. Either approach to whitening can yield dramatic results, and in many cases, they can improve the appearance of your teeth by 6 to 8 shades.
Gum Recontouring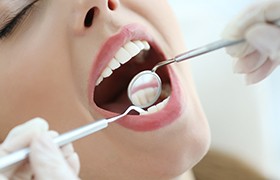 Would you describe your teeth as short or stubby looking? In reality, they might not actually look like that at all; the real problem is likely an excessive amount of gum tissue that hides more of the enamel than it should. If we find that you have more gum tissue than you actually need, we can reshape the gum line to improve the proportion of your smile. We'll carefully remove the excess tissue in a process that typically only takes one appointment.
Invisalign Clear Braces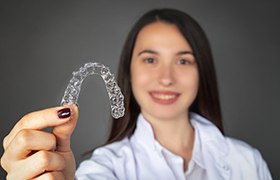 Crooked teeth are a prominent cosmetic concern for many adults. Sadly, many of them never even try to make the improvements they want because they don't want to deal with the embarrassment of metal brackets and wires for the next several months. Luckily, Invisalign can make this a non-issue. You'll wear a series of plastic aligners that will gently push the teeth towards their ideal position. Because they're so discreet, most people won't even notice them unless they already know what to look for. You can also easily take Invisalign out during meals or when you need to brush your teeth.