Gum Disease Treatment – Milton, MA
Don't Neglect Your Gums!
Maintaining healthy teeth might be your main goal when seeking dental care, but you can't do that unless you also protect your gums. They usually protect the roots of your teeth, but if they become infected, not only will they become swollen and painful, but they can also lead to the destruction of the underlying jawbone, eventually causing tooth loss. We here to help you protect your gum health, so please call us right away if you suspect that you need gum disease treatment from our Milton, MA family dentist.
Why Choose Milton Hill Dental
for Gum Disease Treatment?
State-of-the-Art
Cleaning Techniques
Highly Experienced,
Skilled Periodontist
Convenient Morning
and Evening Hours
Scaling & Root Planing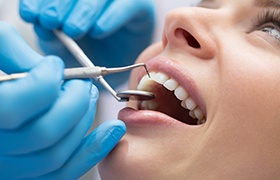 You develop gum disease when plaque and tart build up around your gum line and create an inflammation. Before your mouth can heal, these harmful substances need to be removed as thoroughly as possible. To do so, we'll perform a deep cleaning, also known as scaling and root planing.
Scaling is the process of removing plaque and tartar. Instead of scraping them away, we can use an ultrasonic cleaner to break them up. After we have completed this step and rinsed your mouth out with water, we'll reshape and smooth out the roots of your teeth. This root planing stage is essential for healing. Plaque and bacteria can't reattach themselves as easily to the now smooth surfaces of the roots, meaning there's a much lower risk of the infection occurring again. Scaling and root planing can sometimes be done in one appointment, but in more severe cases as many as 4 treatments might be required.