Emergency Dentistry – Milton, MA
Save Your Smile, Stop Your Pain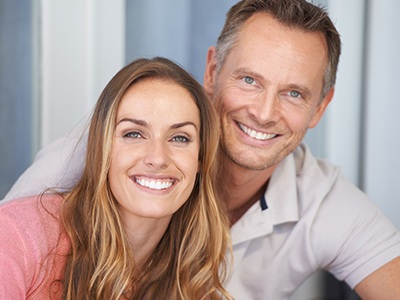 When you have a severe toothache or are suffering from dental damage that needs to be repaired as soon as possible, you don't have time to wait; you need to schedule an appointment as soon as possible. Our doctors will quickly make time for patients who are in the middle of a dental emergency, and they can offer a variety of treatments for those in need of urgent care. Same-day appointments are available for emergency dentistry in Milton, MA, so you aren't left with your pain for too long.
Why Choose Milton Hill Dental
for Emergency Dentistry?
Dentists with Decades
of Experience
Various Options for
Repairing Teeth
In-House Periodontist
and Endodontist
Common Dental Emergencies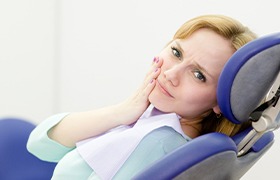 A dental emergency could come in many forms depending on what caused it, such as an unaddressed infection or a sudden blow to the face. No matter if you're suffering from an injury or an infection, the problem is only going to get worse the longer you ignore it. Call us immediately to schedule a visit. We'll also provide first aid tips as needed to temporarily stop your pain until you receive proper treatment.
Toothaches
Something might be caught in your smile. Rinse with salt water and floss carefully to see if anything is dislodged. Should the pain persist, place a cold compress over the affected area and use over-the-counter medicine to reduce the pain you might be experiencing.
Chipped/Broken Teeth
If any pieces have broken off completely, gather them up and put them in a safe container. While you are waiting for your appointment, you can cover the jagged edges of your tooth with dental wax or sugarless gum to protect the inside of your mouth from scratches.
Knocked-Out Tooth
There's only about an hour or so to attempt to replant a tooth once it has been completely knocked out of your mouth. Get to our dental office as soon as you can. Once you have located the tooth and have gently rinsed it off, try to put it back in its socket. You may also store in in a container of milk to preserve. The important thing is to ensure that the tooth stays moist.
Lost Filling / Crown
Locate the restoration quickly. Take it out of your mouth so that it doesn't inadvertently go down your throat. You can try and put it back in place with a small dab of toothpaste. Otherwise, you can protect the tooth with dental wax or a wet cotton ball. Save the restoration if you can.
Preventing Dental Emergencies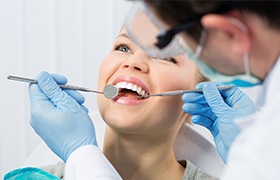 A dental emergency can happen to anyone, but they are generally avoidable. Follow these tips to keep your teeth and gums safe:
If you play sports of any kind, you should always wear a mouthguard. (This applies even to games with little to no physical contact.)
Do not chew on ice, pens, pencils, and other extremely hard objects.
Never open anything with your teeth; find some scissors, a bottle opener, or another appropriate tool instead.
Maintain good oral hygiene habits by brushing and flossing every day.
To prevent small dental issues from turning into emergencies, visit us for a checkup every six months.
Cost of Treating Dental Emergencies
There are various kinds of dental emergencies, and different people will have unique needs when it comes to oral health care. Thus, there is no one universal price for emergency dental care. When we examine your mouth, our first priority will always be to figure out what the best treatment is for eliminating your pain and protecting your teeth. Then we can give you an estimate of the final cost and discuss your financing options to make sure you can afford it.
TMJ/TMD Treatment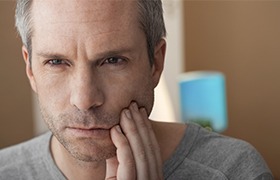 Sometimes the pain in your mouth is directly linked to the joints that connect your jaw to your head, also known as the TMJs. When a TMJ is strained or misaligned, you may experience persistent jaw pain or stiffness, and you might hear a popping or clicking sound whenever you open or close your mouth. Depending on the situation, we can treat a TMJ disorder with an occlusal splint that rebalances your bite. We can also perform an occlusal adjustment that allows you to close your mouth all the way, giving your TMJ a chance to find its natural resting place.