Implant Dentures — Milton, MA
The Coverage of Dentures, the Stability of Implants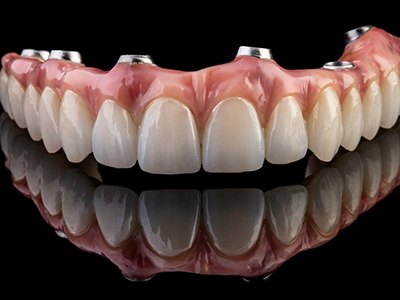 Modern dentures are incredibly sophisticated, adhering well to the gums and appearing incredibly realistic. However, if you've worn them for a while, you're probably well aware that they aren't perfect.
If you live around Milton and you're interested in upgrading your prosthetic, implant dentures from Milton Hill Dental could be great for you. They can afford you both the coverage of dentures and the stability of dental implants, giving you the best of both worlds. Give us a call today, and we'll be able to tell you more about what these treatments could offer to you.
What Are Implant Dentures?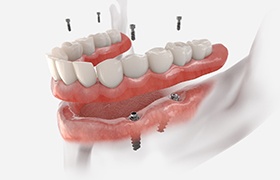 As you might imagine, implant dentures are a prosthetic that's attached to a set of dental implants. These are small metal rods that are surgically placed into the jaw, allowing a restoration to be attached to them.
Implant dentures are done by attaching a set of dentures to four dental implants placed in various areas across the mouth. This affords them a greater level of security and realism compared to what typical dentures have to offer.
Fixed/Permanent Implant Dentures
Fixed implant dentures are designed to stay in place for a long time, such that you would need the assistance of a dentist to remove them. This means that you can clean them just the same as your natural teeth, without ever needing to worry about losing them. However, they require a greater level of jawbone density than the alternative.
Removable Implant Dentures
Then there are removable dentures, which are designed to be able to snap on and off. These dentures use clips or ball sockets to fit securely into place until you need to remove them. They require fewer implants to be secured in place, but like with traditional dentures, you'll have to take them off to clean them.
The Implant Denture Procedure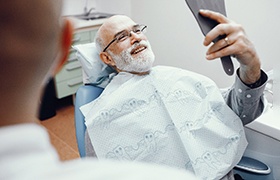 As with any treatment, the first step in the process of getting implant dentures will be the consultation. You'll likely talk with Dr. Luccio, our periodontist, about your individual needs. Once you're satisfied, the next phase will be the surgery, where the implants will be placed in the jaw. While the surgery itself will be quick, it will take anywhere from three to six months for the implants to fuse completely with the jaw.
Once that's done, we'll take impressions of your jaw in order to craft your dentures. These designs will be sent to a lab to be created, and once they're done, you can come back to our office to get your final prosthetic.
Am I a Candidate for Implant Dentures?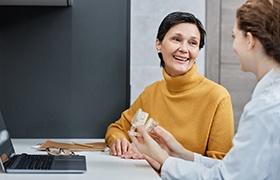 It's easy for patients to be intimidated by the prospect of dental implant surgery, but thankfully the procedure to get them isn't all that invasive. So long as your oral health is fairly good, you should be able to get these implants without much of an issue.
However, there are some instances where preliminary treatments are necessary. For example, if your jawbone has degraded from disuse, you may need a bone graft in order to give your dental implants sufficient support. You may also need to undergo gum disease therapy if your oral health is in poor shape, as the presence of excess bacteria means that you're at greater risk of developing an infection.
Benefits of Combining Dentures & Dental Implants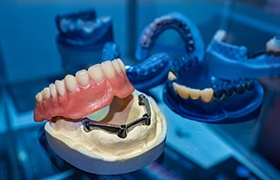 While it's certainly true that implant dentures are more expensive than just the prosthetic on its own, they are certainly worth the cost. They can offer you a lot more stability, security, and bite strength than dentures can on their own. They're also surprisingly durable, meaning that you may be able to avoid replacing your dentures as often.