Dentures – Milton, MA
No Need to Live Without Teeth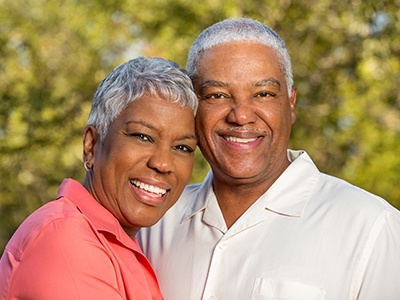 It may be hard to imagine losing all of your teeth, but it's not as uncommon as you might want to think. Roughly 40 million Americans are missing both their upper and lower arches, and as a result they have to struggle with the cosmetic consequences and the inconvenience that comes with having no teeth to chew or smile with. Fortunately, our skilled dentists can replace all of your teeth at once with a centuries-old solution: dentures. If you or a loved one is facing a life with an empty grin, call us today to schedule a consultation to discuss replacing missing teeth with dentures in Milton, MA.
Why Choose Milton Hill Dental
for Dentures?
In-House Implant
Placement Available
Morning and Evening
Appointment Times
Skilled Dentists with
Years of Experience
What Are Dentures?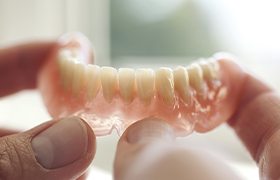 Today's dentures are meant to look like real teeth to the point where the casual observer won't be able to tell that they were missing at all. They're made of ceramic teeth attached to a gum-colored ceramic base, and when designed correctly they'll fit perfectly in your mouth. It's important to remember that there are actually multiple kinds of dentures that you can get depending on your needs. The three types are as follows:
Full Dentures
A full denture is only recommended for the most extensive cases of tooth loss. You'll receive them if you've lost all or most of the teeth in your top and/or bottom arch. Each full denture is designed based on a detailed impression of your mouth so that they can stay securely in place on your gums. The restorations themselves will be made at a dental lab by a team of experts. You can use denture adhesive to keep your new teeth in place, but if they have been fitted correctly, they should stay on your gums on their own thanks to the suction that is naturally created between the base and your gums.
Partial Dentures
Even if you still have most of your teeth, a few gaps can take a severe toll on your self-esteem as well as your diet. A partial denture has been customized to carefully fit into your mouth so that it fills in the various gaps throughout the arch. It will contain a number of carefully designed ceramic teeth that will blend in with the rest of your mouth. Clasps will be placed on your remaining natural teeth; they'll be used to secure the partial denture in place.
Dental Implant-Retained Dentures
Both full dentures and partial dentures can be anchored to dental implants for additional security. Implants have superior longevity compared to other restorations, and they fuse with the jawbone itself so that they can take the place of your missing tooth roots. This promotes the growth of healthy bone tissue so that your jaw can continue supporting your teeth and your facial muscles, thus keeping your mouth healthy and your face looking more youthful as time goes on.
Benefits of Full and Partial Dentures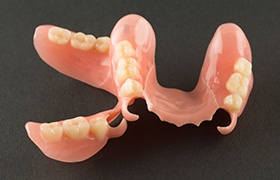 Full and partial dentures both offer a number of benefits. For starters, they'll let you eat a wider variety of foods again. This means you can once again maintain a diet filled with crunchy vegetables and other nutritious foods. A complete set of teeth is vital for speaking clearly, and it'll also improve your appearance so that you won't have to feel self-conscious about an incomplete grin.
Benefits of Dental Implant-Retained Dentures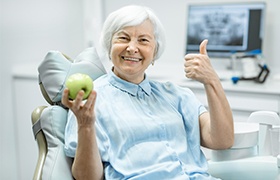 Dentures are viable on their own, but if you happen to be a candidate for dental implants, you can enjoy further advantages, including:
Replacement tooth roots that feel natural once they join with your mouth.
Less of a risk of your new teeth slipping or becoming ill-fitting after a few years.
Easier maintenance since you can just brush and floss your teeth like you would normally.
Improved jawbone health thanks to the stimulation that implants provide.
A lack of sores from dentures that have not been properly fitted.
The longer you live with missing teeth, the worse the consequences will become. If you're ready to replace your teeth, call us today for a consultation to ask about dentures and other types of tooth replacement.
Dentures FAQs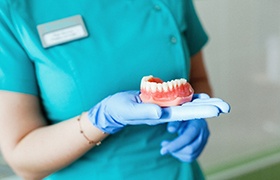 There's no need to live without teeth: at Milton Hill Dental, we're proud to offer a variety of custom-made dentures in Milton. These classic and reliable restorations can help you regain the complete, confident smile you deserve! We understand that choosing the best way to replace your missing teeth is a big decision, and it's likely that you have some questions that you'd like answered before committing to a treatment plan. While we'll be happy to answer all your questions during your consultations, we've gathered some frequently asked questions about dentures below so you can learn more. As always, call us to learn more or to schedule your next appointment!
Should I Have All My Teeth Pulled to Get Dentures?
Repairing damaged teeth is always preferable to having them pulled and replaced. We only recommend tooth extractions when they're absolutely necessary, such as if the tooth is irreparably damaged or severely infected. If possible, we will do our best to preserve your natural teeth with services like root canal therapy and crowns. However, sometimes if all the teeth in an arch are suffering from the effects of gum disease or decay, it may be more cost-effective to have them pulled than repaired. We'll fully explain all your options before moving forward so you can make a well-informed decision about how to best proceed.
Can I Sleep with My Dentures?
When you first begin wearing your dentures, we will likely instruct you to wear them 24 hours a day for several days to a week in order to help your mouth adjust to them. After that, we'll encourage you to only wear them when you're awake and take them out every evening before bed. This serves two important purposes: firstly, soaking your dentures overnight is the best way to clean off any plaque or bacteria hidden in the nooks and crannies of your denture. Secondly, it takes pressure off your gums and gives them a chance to relax.
Is It Hard to Talk or Eat with Dentures?
Learning to navigate speaking and eating with your new dentures requires an adjustment period. At first, speaking clearly and eating may feel awkward or uncomfortable, but this should pass with time and practice. Consider chewing and speaking slowly, and use a small dab of denture adhesive to keep your dentures in place. Practice reading out loud to yourself and cut your food into smaller bites. It takes most patients about a month to adjust to their dentures.
What Should I Do If My Dentures Feel Loose?
Your dentures are carefully designed for a tight, snug fit to keep them in place. However, they're not designed to last forever. If your denture begins to feel loose, it may be time to have it realigned or replaced. You should give us a call right away so we can see you promptly and readjust your smile. Wearing an ill-fitting denture can damage your gums, jaws, and remaining teeth, so don't hesitate to call us if your denture feels loose!