Skilled Milton, MA Dentist
Get to Know
Mays Al-Saffar, DMD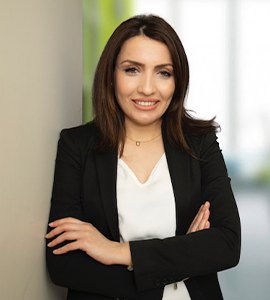 Dr. Al-Saffar says that there is nothing better than changing the life of a patient by giving them a smile that no longer causes them pain or embarrassment. She has seen people's personalities completely blossom in the chair thanks to their renewed confidence, and she strives to deliver these types of results to every patient. Before you meet her in person, you can learn more about Dr. Al-Saffar's background below.
Why Did You Decide to Become a Dentist?
Dr. Al-Saffar grew up in a healthcare family—her father is a consultant nephrologist in the UAE, her older brother is a cardiologist in Sweden, and her younger brother is a general dentist in Florida. When she was a child, she needed orthodontic treatment, and this is what initially got her interested in dentistry. The more she looked into the profession, the more it seemed to suit her, and it eventually became her passion.
Where Did You Study Dentistry?
Dr. Al-Saffar's dental education took her across the globe. She earned her first dental degree at the University of Baghdad College of Dentistry, and she then completed a two-year General Practice Residency in Dubai. From there, she came to the United States and eventually graduated from the University of Pennsylvania School of Dental Medicine, and then she did an Advanced Education in General Dentistry residency at the Whittier Street Health Centre in Boston.
Always hoping to learn and grow as a clinician, Dr. Al-Saffar currently maintains active memberships in the American Dental Association, Massachusetts Dental Association, and the Academy of General Dentistry.
Outside of the Dental Office, What Do You Like to Do?
When she isn't taking care of patients, Dr. Al-Saffar likes to spend her time hiking, writing, traveling, cooking, and listening to music. She also has been writing poems since she was 12 years old.